Sanguinia Merley
Edit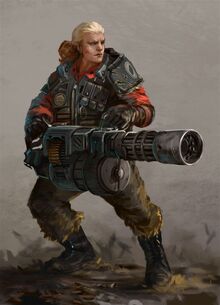 Geboren von tief gläubigen Eltern auf einer der vielen Kathedralenwelten des Imperiums wurde die junge Sanguinia nach dem größten Heiligen des imperialen Kanons benannt. Den tiefen Glauben ihrer Kindheit hat sie sich auch immer noch bewahrt, auch wenn sie seit sie aus der Armee ausgetreten und in die Dienste des Hauses Hawks eingetreten ist weniger oft auf Xenos feuert als ihr vielleicht lieb ist.
Doch sie versteht die unglaublich wichtige Aufgabe der Rogue Trader nur zu gut und bedauert nur, dass um das Licht des Imperators in solch dunkle Ecken zu bringen, man eben nicht jeden Xenos hinrichten kann... nicht sofort jedenfalls.
Ad blocker interference detected!
Wikia is a free-to-use site that makes money from advertising. We have a modified experience for viewers using ad blockers

Wikia is not accessible if you've made further modifications. Remove the custom ad blocker rule(s) and the page will load as expected.