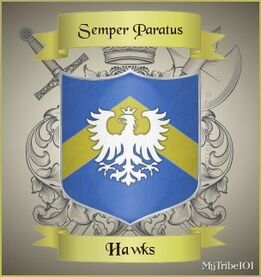 Name:
Freihandelsdynastie Hawks
Aktueller Lord Captain:
William Duncan Hawks
Andere wichtige Mitglieder:
Duncan Arthur Hawks - letzter Besitzer des Hawks-Warrant, Vater von William und Robert, seit ~20 Jahren in der Caridiac Frontier verschollen
Robert Hawks - Williams jüngerer Bruder, auf Felheim stationiert
Zugehöriger Navigator-Clan:
Haus Deventer
Welten:
Verhalten und Auftreten:
Im Allgemeinen sagt man, dass die Hawks sehr tolerant sind. Sie drücken oft ein Auge zu, was ihnen oft als Schwäche vorgehalten wird. 
Es zeigt sich jedoch, dass ihre Untergebenen ihnen auch ohne Drohungen und Exekutionen stets mit Begeisterung folgen.
Wirtschaftliche Macht:
Obwohl die Dynastie zu einer der etwas älteren gehört, hält sie sich stets im Mittel. Nichts außergewöhnliches.
Gesellschaftliche Macht:
Als Halter einer Kolonialwelt ist man relativ mächtig, durch die Position der Kolonie sind die Hawks jedoch recht unbekannt geblieben.
Militärische Macht:
Die Flotte ist vor einigen Jahren verschollen, entsprechend besitzt die Dynastie kaum noch nennenswertes Militär. Einzig die wilden Krieger Felheims sollte man nicht unterschätzen.
Flotte:
-Orion-Class Star Clipper "Ictus Accelaris"
-2 kleine Transporter
- Transportschiff "Carrion Call"
Bekannt für:
Ad blocker interference detected!
Wikia is a free-to-use site that makes money from advertising. We have a modified experience for viewers using ad blockers

Wikia is not accessible if you've made further modifications. Remove the custom ad blocker rule(s) and the page will load as expected.